Whether remote work takes you to the other side of the globe or to your home office, we've gathered the top tips and tricks to make working remotely a breeze using Flock.
Communicating in Flock
You and your remote team can't succeed if you aren't communicating effectively. While your communication skills may be up to par, you need to make sure your tools are, too.
Here's how to set up proper communication within Flock:
Channels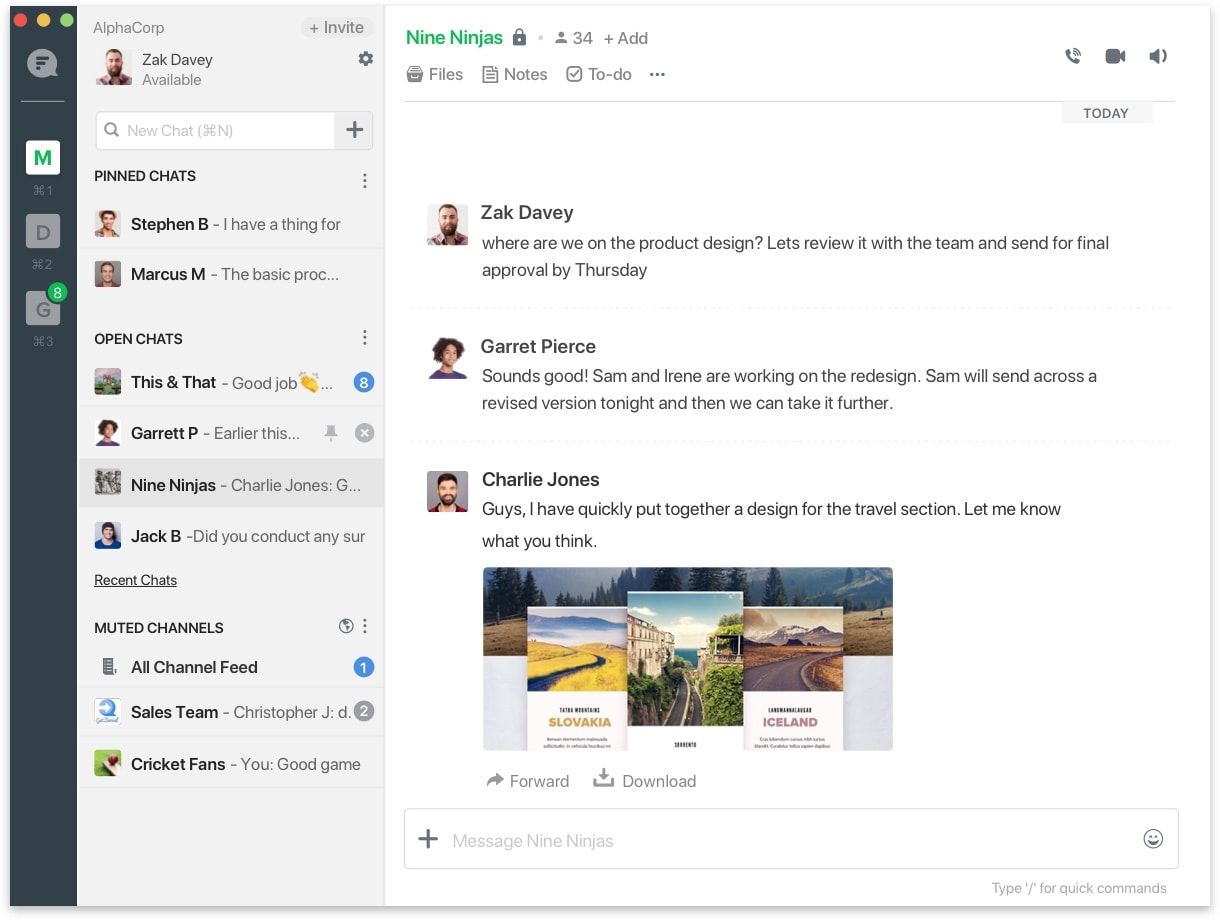 You literally can't Flock without channels. But the key to making channels work for you is setting up the proper streams for communication. It's not just about creating a channel for your marketing or IT team. You can—and should—set up channels for individual projects, events, and even niche conversations based on interest or affinity.
Here are some channels Flock's Marketing Team uses daily that could work for your team:
Core Marketing Team
Content Strategy Team
SEO - Content Collaboration
Sales - Content Connection
Social Media Brainstorm
Reading Snippets
Music Enthusiasts
Flock Pets
You can even set up smart channels that automatically add specific user groups. For example, your Core Marketing channel can auto-populate all teammates that fill in 'Marketing' in the custom field called "Function".
Learn all about Channels here.
Private messaging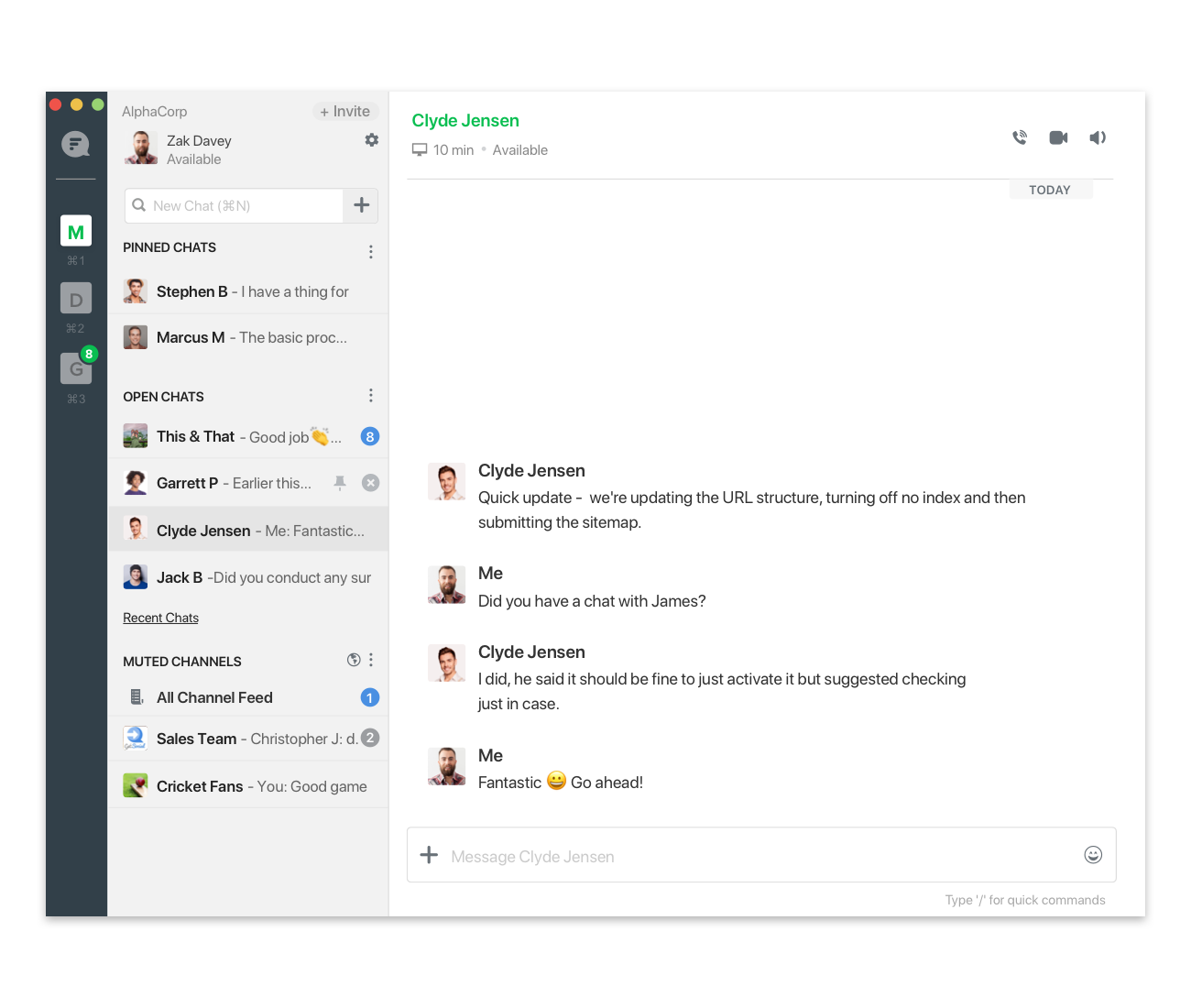 Even if your team is transitioning to a fully remote model, you still need to hold regular 1:1s. Sometimes you just need a quick pulse, or need to have a one-off conversation about a project. No need to muddle up your team channels—Flock allows for direct and 1:1 messaging with anyone in your organization.
Video, voice memos, and audio conferencing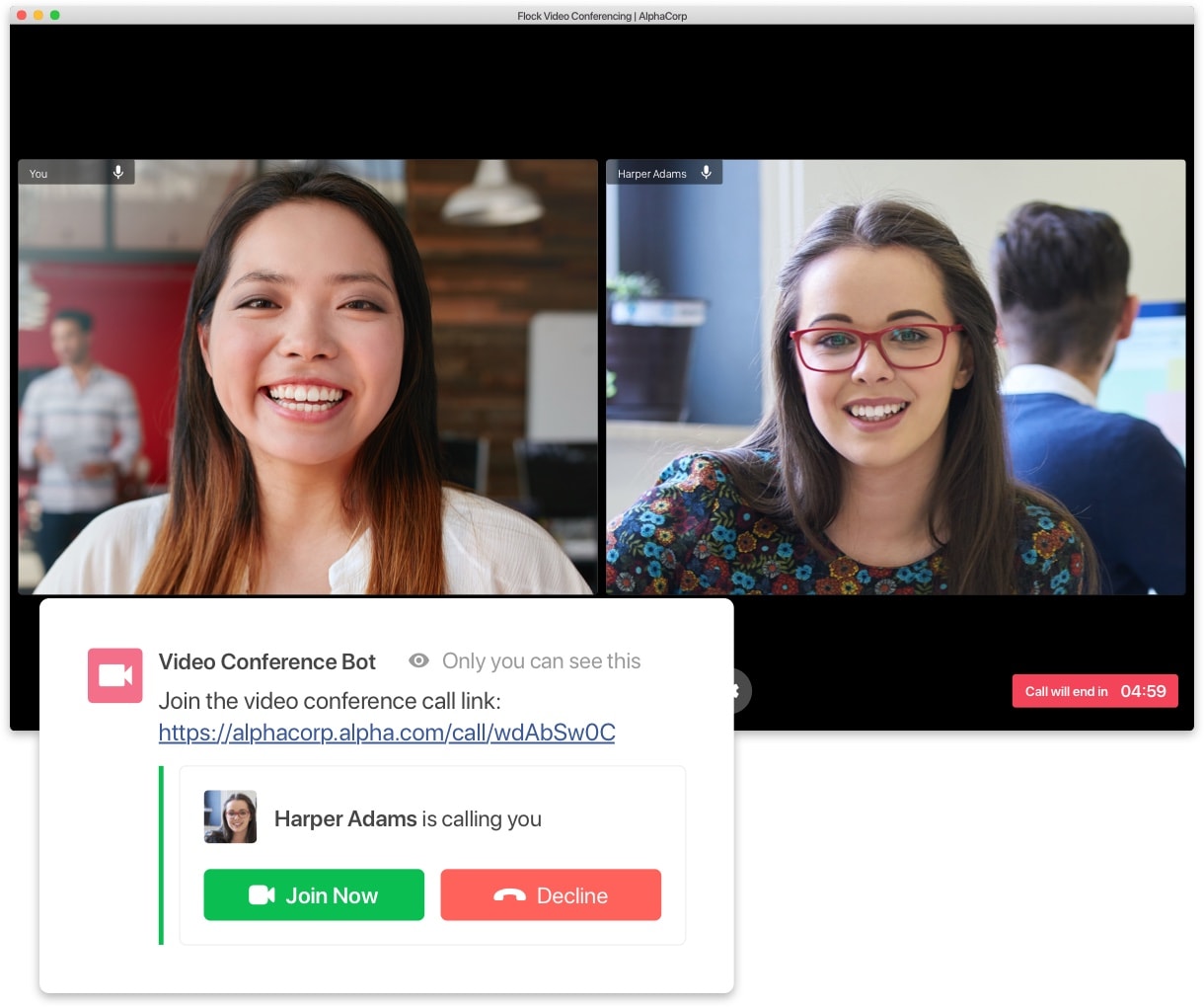 Of course, sometimes text-based messaging isn't the best way to communicate within a team. For conversations that require deep thought and more direct communication, Flock's video conferencing, audio conferencing, and voice memos help get the point across.
Make sure your remote workspace is properly set up with the tools and environment you need for a successful call. This may mean a professional microphone with ambient noise-canceling ability. Or you might need a proper webcam and lighting setup. And be sure you've established solid policies for video conferencing etiquette to make your meeting as smooth as possible.
Flock productivity tools
Now that your team's communicating, it's time to get productive. While there are hundreds of productivity tools your business can adopt, sometimes it's best to have them all in one place. That's what Flock is for.
To-dos and reminders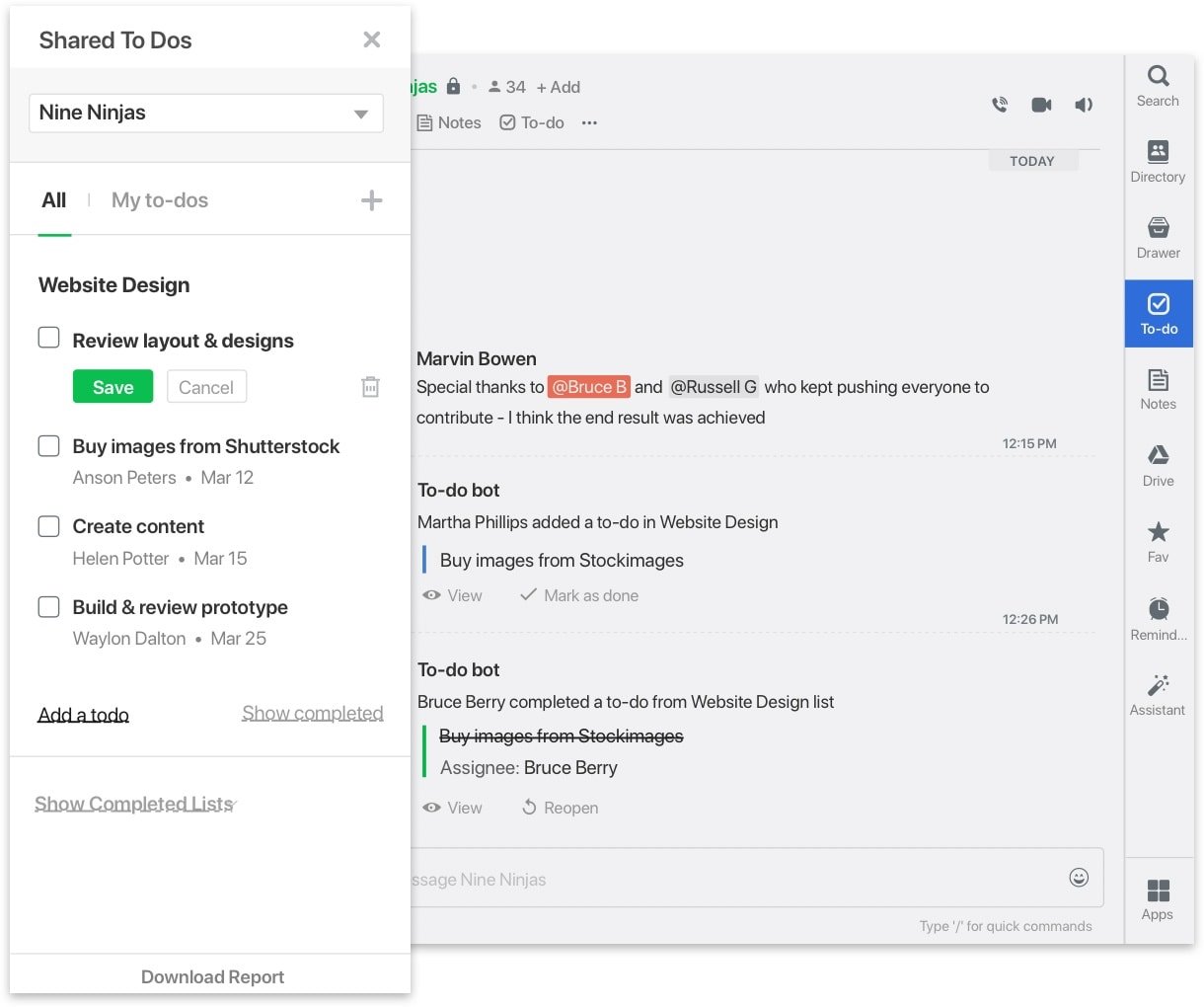 The key to productivity is making lists. The classic to-do list is a proven method of getting things done, and Flock takes that to heart. Flock's shared to-dos and individual to-dos help you layout your tasks for the week, assign tasks to others, and even remind you when it's time to complete a task.
File sharing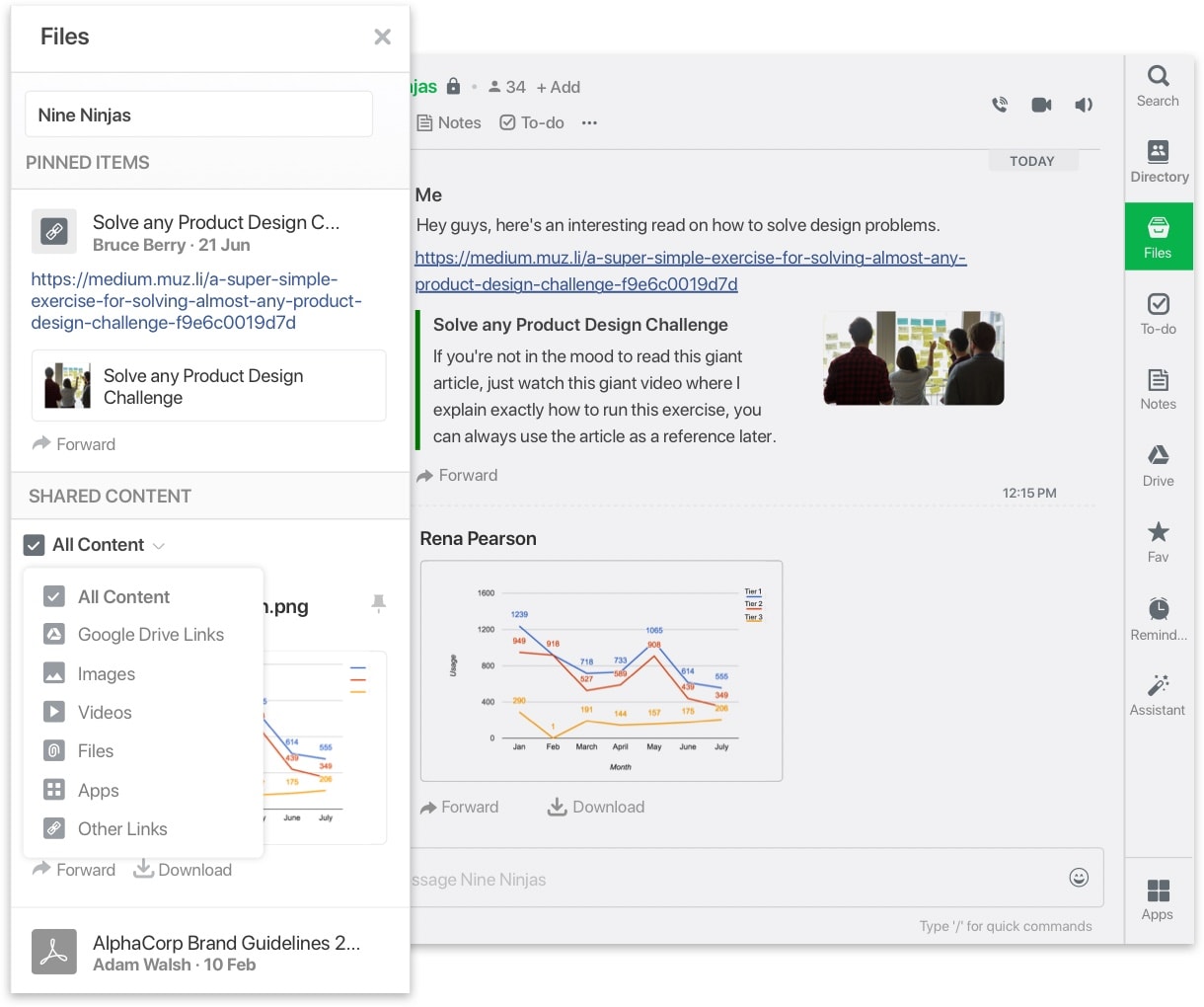 We're dedicated to making collaboration work for your team. So Flock's file-sharing abilities are widespread. Not only can you integrate your Google Drive directly within Flock, you can send files directly through the attachments section in a new message. That means you don't have to worry about files getting lost in the email abyss and can guarantee that your colleague has received the file. Sharing is caring, after all!
Integrations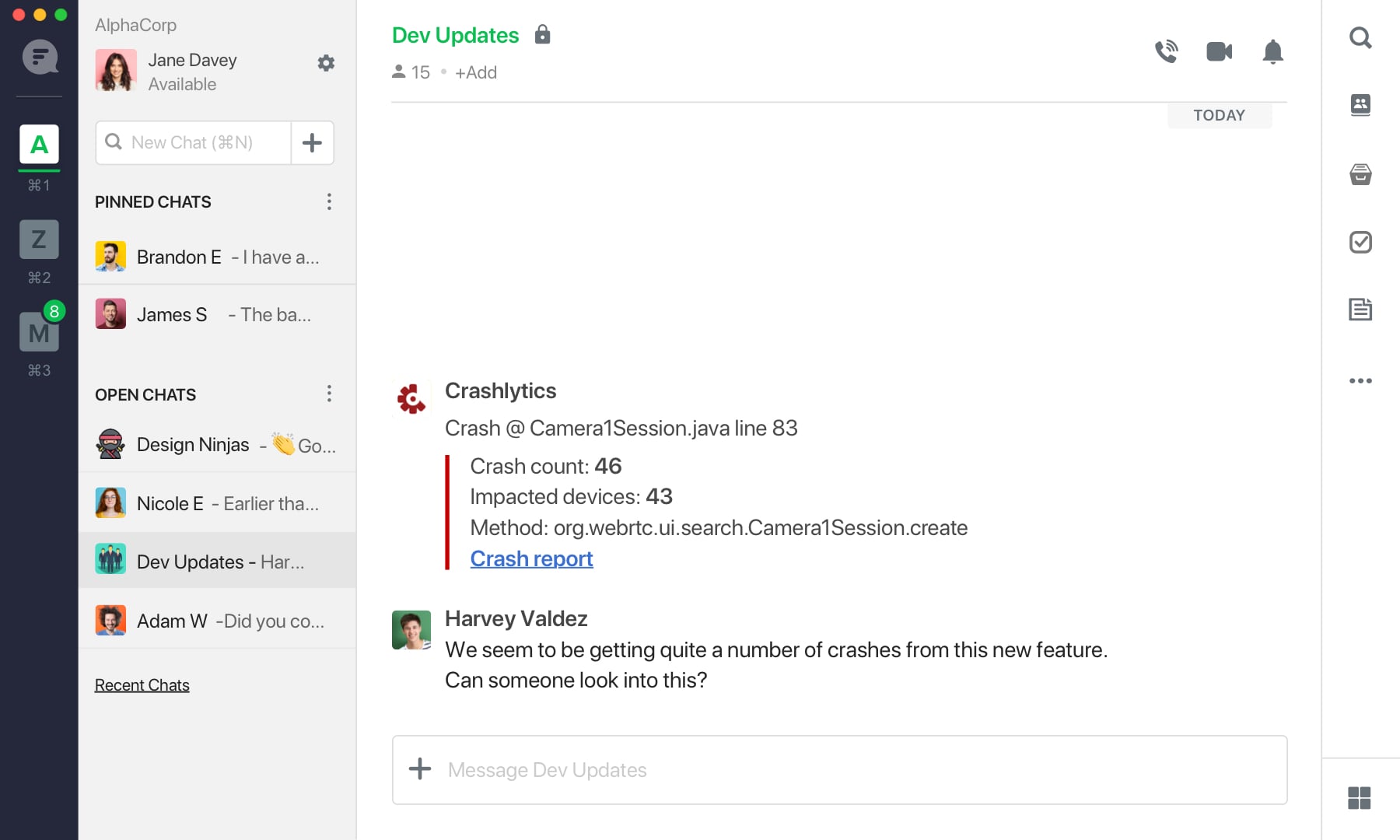 Sometimes you just need a little extra to ensure your team's productivity. There are more than 40 integrations in Flock to make that happen, from Zoho CRM to Github to Twitter, so you can take the tools your business already uses and keep them centralized in Flock.
Pro tip: Managing a Twitter channel? Use the Flock Twitter integration to track incoming mentions or hashtags. Watch tweets populate in real-time and brainstorm your participation with your team right in the chat.
Remote work best practices
Any tool is best utilized with solid guidelines and practices in place. Here are some tips to make the most of Flock for your team.
Policies and guidelines
Systems and structure: the foundations of a well-oiled machine. While your company may have set policies for in-office communication, policies for remote work are still few and far between. It's important to lay down some ground rules while transitioning to a work-from-home policy, like communication guidelines or wellness policies.
Here at Flock, we're more than happy to tell our team in India to go to bed when it's 11 p.m. in Mumbai but 1:30 p.m. in Boston. Establishing that wellness norm will not only keep your team productive, it will also drive overall employee engagement and happiness.
Here are some remote work policies to get you started:
Always start meetings on time
Have a backup plan for meetings (i.e. cell phone numbers) in case technology fails
Set a status when you're away from your device or on leave so your team knows you're unavailable
Do Not Disturb and mute
Just like in an office, sometimes workplace chatter can be distracting. When you need to stay focused, use technology to your best advantage. Built-in Do Not Disturb (DND) features both within Flock and on your devices eliminate distracting notifications and let you focus on the task at hand. Don't need to fully unplug? Mute an individual channel in Flock using the /mute slash command so you can chat with your team in your 'Product Update' channel without feeling enticed to join today's discussion in 'Music Enthusiasts'.